Limited stock available, please call for current stock levels.



ARK AP730 ArkPak 240V & 12V Portable Battery Box
(Compatible with Lithium Battery LiFePO4)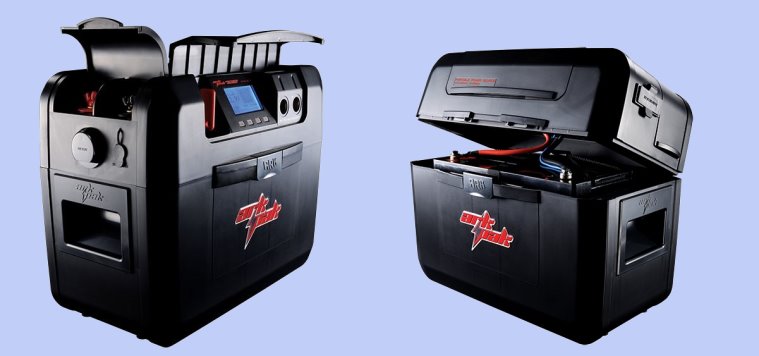 The evolution is here!
Now compatible with lithium LiFePO4 batteries
The ArkPak 730 has been enhanced for optimum charging and powering performance. This clever portable power source charges at 7 amps for AC and DC. Enabling the ArkPak 730 to power more devices when getting out in the great outdoors.
Choose a battery and place it in the ArkPak 730 for an effective all-in-one portable power station, a battery management system and a dual-battery alternative. There are four options to recharge the ArkPak 730:
1. 240V Mains power
2. While on the move from the vehicle's DC (cigarette) socket
3. Solar panels
4. Via the Anderson socket
Its inverter has been boosted to 300 watts for supreme power to charge multiple or a high power device. The revamped ArkPak 730 is the definitive portable power pack when getting away from it all and staying powered.
Technical features:
DC - DC car charging capabilities

300 watt inverter

5 volt USB 2.1 amp socket

2 x 12 volt accessory sockets

50 amp Anderson socket

External battery terminals

Low voltage cut-out

Manual isolator switch

Time tracker technology

Battery management system

7 Stage smart charger

Weight: 4.62kg

External dimensions: 240mm wide x 440mm long x 327mm high

Internal dimensions: 180mm wide x 330mm long x 238mm high

Battery compatibility: LiFePO4, Gel, Calcium, AGM, lead acid

Up to 130 amp hour battery size
Optional accessories:

Mounting bracket kit (see part#

APB20B

)
Model range comparison:

| | | | |
| --- | --- | --- | --- |
| Features | AP730 | AP715 | AP620 |
| Single function control panel | | ✔ | |
| Multi-function control panel | ✔ | | ✔ |
| AGM battery types | ✔ | ✔ | ✔ |
| Calcium battery types | ✔ | | ✔ |
| Lithium battery LiFePO4 | ✔ | | |
| Lead acid battery types | ✔ | ✔ | ✔ |
| Gel battery types | ✔ | ✔ | ✔ |
| 150 watt modified inverter | | ✔ | ✔ |
| 300 watt modified inverter | ✔ | | |
| 4 amp AC charge | | ✔ | |
| 7 amp AC charge | ✔ | | |
| 7 amp DC charger | ✔ | ✔ | |
| Silver trim | | ✔ | ✔ |
| Black trim | ✔ | | |
| 2 meter DC car charger lead included | ✔ | ✔ | |
| Time tracker technology | ✔ | | ✔ |
| Displays net watts | ✔ | | |
| 2 x 10 amp 12V sockets | ✔ | ✔ | ✔ |
| 50 amp Anderson plug | ✔ | ✔ | ✔ |
| 5 volt 2 amp USB | ✔ | ✔ | ✔ |
| 6 amp AC | | | ✔ |
| 6 amp DC | | | ✔ |
| Super quiet fan | ✔ | ✔ | |
For a suitable battery, click the following links:
Lifeline GPL-31T
Deka 8A31DTM
Remco RM12-100DC
Fullriver DC120-12B
Super Start Batteries HVT86D